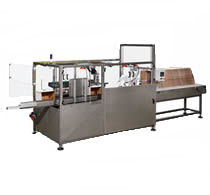 The automatic high speed case erector uses a programmable servo drive to quickly erect cases and tape the bottoms. The servo system allows cases to be erected with fewer moving parts, higher speeds and less wear. The high speed case erector also handles...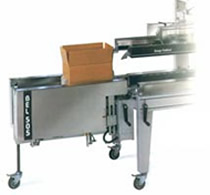 The Semi-Automatic case erector and box packing station folds the bottom flaps of the case and supports the box for manual packing. Ideal for facilities that manually pack product, combining this case erector and packing station with a case taper will allow one st...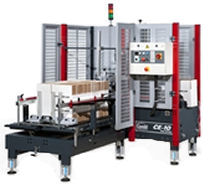 The automatic case erector folds and tapes the bottom of cases ranging in size from 8" x 6" x 5" to 17.5" x 13.5" x 17.5". The powered magazine, automatic case forming and tool free changeovers are ideal for facilities looking to add efficiency to case e...
Case erectors are used to open and erect a wide range of box sizes. From manual case erecting to automatic case erecting, these machines can add efficiency to your packing and production line.
Automatic case erectors use vacuum pumps to pull blanks from a case magazine, erect cases and seal the bottom for presentation for the next packaging phase, whether that be packing, labeling, coding or any other packaging function. Semi-Automatic Case Erectors offered by Liquid Packaging Solutions includes a box packing station that allows operators to simply open the box and slide it into the packing area.