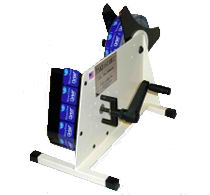 The manual label dispenser presents each label for application to user containers. The economical label dispensing machine is ideal for facilities that manually apply labels to product, but are in need of increased efficiency.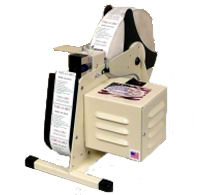 The Semi-Automatic Label Dispenser allows automatic motorized dispensing of labels for manual application to containers. The user can simply install a roll of labels, remove a label for application and the label dispenser will ready the next label for application....
Whether labeling manually or automatically, labeling accessories can add efficiency and increase output of the labeling process.
Label dispensers can increase the efficiency of manual labeling by presenting each label to the person applying labels to the containers.
Label rewinders and label printers work well for facilities that use a wide range of label types and sizes or for facilities with many short runs of different products. Printing your own labels allows for versatility in the labeling process as well as the ability to create labels for numerous products.