Labeling and Coding Equipment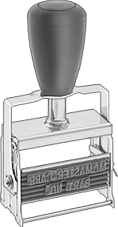 This ink coder allows characters to simply be pressed in to create any message desired, including expiration dates, batch numbers, lot numbers and more. The stamp accepts characters of varying heights with a built in pad that works with porous and nonporous ...
Labeling may be the single most important aspect of packaging your product. In most cases, your product label is, quite simply put, the presentation of your product to your customer!
Liquid Packaging Solutions offers labeling machines and coding options for any packaging system. At LPS, we offer manual to fully automatic pressure sensitive labelers, hot stamp coders to laser coders, and all the accessories to get your product ready for the shelf!
Manual to automatic pressure sensitive labelers are available to fit your production needs. A pressure sensitive labeler can apply labels to a bottle in many different formats. Pressure sensitive labeling machinery can be manufactured as an automatic wrap labeler, a front and back label applicator, an automatic three-panel labeling machine or as a custom bottle labeler.
Coding machines allow your to print expiration dates, batch numbers, sell by dates or any other informaton on your product container. LPS offers coding machines for many different materials and production speeds, from hot stamp and ink jet coders to laser coding machines.
Finally, accessories for labeling machines and coding equipment can help to automate your labeling and coding process and increase efficiency. Label rewinders, label dispensers and label printers are all available from Liquid Packaging Solutions.
Labeling machines and coding equipment can always be custom manufactured to meet each customers unique labeling or coding needs. If you have questions about labeling machines or coding equipment, call Liquid Packaging Solutions toll free for your answer!