Shrink Wrappers and Bundling Machines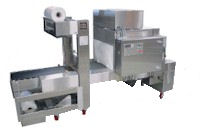 This economical automatic shrink wrap bundler is manufactured with a compact, stainless steel design. The shrink wrapper will provide a bullseye wrap to individual products, pads, trays and multipacks.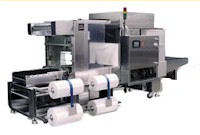 The high speed automatic shrink wrap bundler is ideal for high production packaging lines. This shrink wrapper will provide a bullseye wrap for trays, unsupported products, pad supported products and larger individual items. PLC touchscreen interface makes t...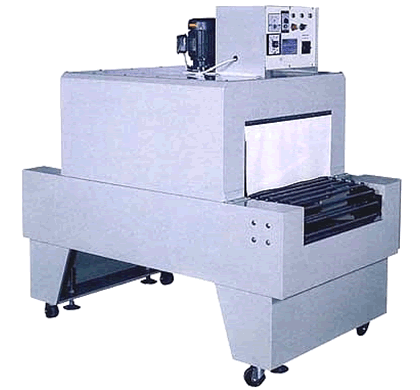 The heat shrink tunnel is used to ensure that film is evenly shrunk around products, trays or multipacks. The tunnel uses hot air and cooling fans and can be used with polyolefin and PVC film to provide a bullseye wrap on packages.
Shrink Wrappers, or Bundlers, are used to package a collection of products as one, supported or unsupported, by applying a shrink film around the bundle and then shrinking the film to the products.
Automatic shrink wrap bundlers offered by Liquid Packaging Solutions apply a "bullseye" wrap around products. The machines create a sleeve of shrink film which is secured around the product, leaving two circular openings, or bullseyes, on the sides of the wrapped product. The machines can shrink wrap individual products, trays or products, pads of products or unsupported collections of products.