Economical Pressure Sensitive Labeling Machine - Wrap Labeler
Model#: LAB-WRAP-EC
Pressure sensitive wrap labelers offer quick and easy set up and changeover with self-set technology. The operator simply places a container on the labeler conveyor and motors are synchronized for smooth, wrinkle-free labeling. This automatic bottle labeler will apply wrap labels to a wide range of container sizes and can be custom manufactured for extra large label sizes.
Liquid Packaging Solutions does not manufacture labeling equipment. However, LPS can recommend a manufacturer of labeling equipment based on your bottles, labels and other project components to integrate with other LPS machinery to form a complete packaging system.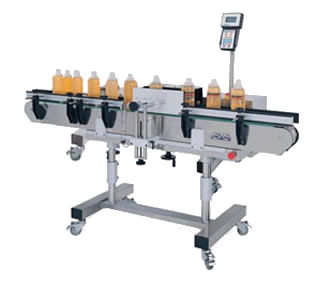 Stainless steel frame and components
Self-Set Technology
50 job memory
Standard label sensor
Variable speed product separator
Variable speed conveyor with 4" wide belt and wrap belt assembly
Product diameter from 1/2" to 5"
Label length from 1/2" to 10", width from 3/8" to 4 3/4"
Label core size of 3" with a maximum diameter of 14"
Spare parts kit
Clear label sensor
Hot stamp coder
Low foil detection for hot stamp coder
Left hand labeling
Increased maximum label length
Custom peel blades
Conveyor options
Infeed separator screw assembly
Thermo-transfer printer integration
Automated Packaging Line - Liquid Filler, Capping Machine, Labeling Machine