Four cylinder automatic piston filler is ideal for filling liquids, semi-solids and products with particulates. This piston filling machine features a large product hopper and the standard liquid filler works from .5 oz. to 2 gallons with change parts. ...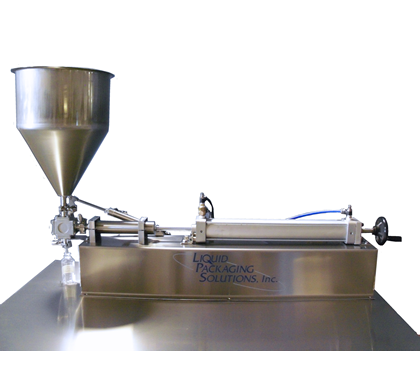 Tabletop Piston Fillers from Liquid Packaging Solutions are ideal for thin and thick products alike as well as homogenous products. Filling anywhere from 2 to 2400 ml, these filling machines can be manufactured for low production consumer goods, laboratory te...
Piston Filling Machines from Liquid Packaging Solutions use a volumetric filling principle. The piston draws back, allowing a certain amount of product from the supply system to enter the nozzle. This same amount of product is then pushed out of the nozzle and into the waiting container.
Piston fillers are ideal for thick or high viscosity products. The liquid fillers are the perfect solution for pastes or sealants, allowing for an accuracy of fill from 1/2 to 1% by volume.