Stretch Wrapping Machines - Semi-Automatic Pallet Wrapper with Pre-Stretch Film Delivery
Model#: PW-SA-PST
This semi-automatic stretch wrapper adds pre-stretch film delivery for added pallet wrapper efficiency. The powered film delivery of the pallet wrapper will stretch film from 50% to 300% prior to wrapping the load, saving both time and money on film roll replacement.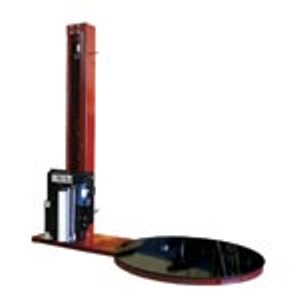 56" diameter stainless steel plate
Variable speed carriage lift with fully guarded chain
Start cycle push button
20" powered pre-stretch film delivery system
Prestretch from 50 - 300%
Variable speed turntable drive
Tri-beam auto height eye
Positive home alignment
Separate top and bottom wrap selectors
Maximum load - 52"L x 52"W x 90"H
Weight capacity of 5000 lbs.
Loading ramp
End of cycle film cut off